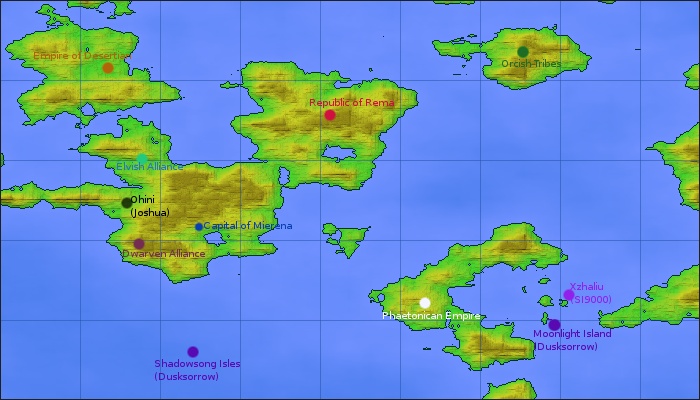 (*Map will be updated as more people join, hopefully.)
Malia - The Dawn of New Conflicts.
*A New Dusksorrow Certified Roleplay!
This Roleplay is based on the World of Malia, where Numerous main Empires currently exist. These are - Rema, the Dwarven Alliance and the Elven Alliance, Mierena, Phaetonica, Empire of Desertia and the Orcish Tribes, as well as numerous independant, smaller Empires. You control a town, as part of one of the main empires or totally Independent, and attempt to forge your own destiny in the world.
Races:
Humans
Dwarves
Elves
Orcs
Goblins(Independent, Desertia Or Orcish Tribes Only!)
Merfolk(Independent Only!)
Custom Races - Player made races will go through a vigorous acceptance process. They are however, unique to your faction inless you say otherwise. (Independent only!)
*Note, Certain races allegiances differ, as Goblins will be loyal to Orcs and Humans, then just Goblins, this is rare, however.
Sheet Template
Name of Nation -
Main Town -
Dependent to - (If none, use Independent.)
Main Race -
Leader - (May be kept unknown for Roleplay reasons)
Strengths -
Weaknesses -
So, this is mine -
Name of Nation - Imperium Darkani, Darkness Seal
Main Town - Sindaralia, Shadowsong Isles
Independent Nation.
Main Race - Shadow Goblins
Leader - Imperator Xil'atal
Sub-Leader - Niltheriu
Strengths - Numerous monsterous creatures, powerful shadow magic and elite soldiers.
Weaknesses - Few in number, no healers, very few mages.